The Moreland S
C

C

C

C

oop
From our director
Welcome to the very first issue of our new E-Newsletter
The Moreland SCCCCoop!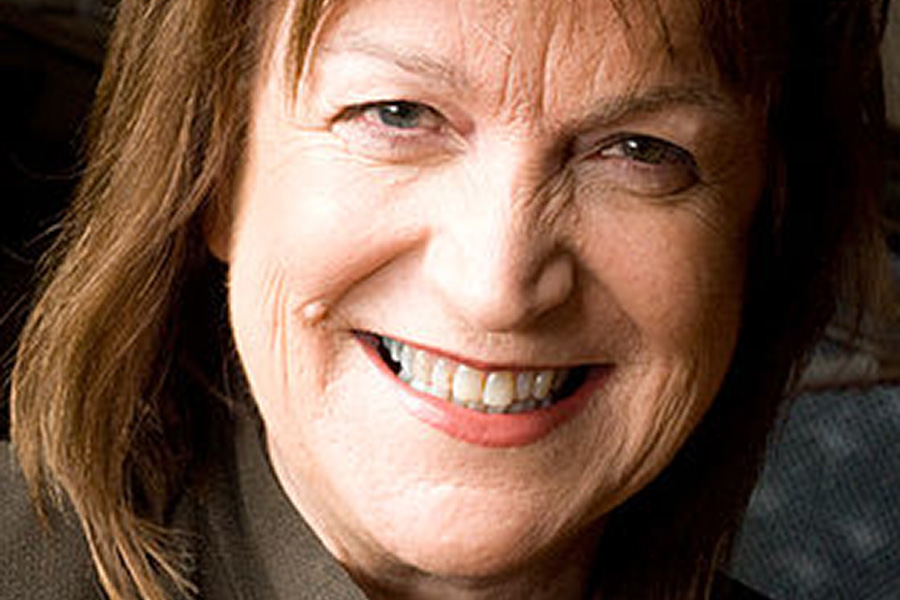 The Moreland SCCCCoop will be sent out to MCCCC families and subscribers every quarter via email. 2016 was a year of 'out with the old and in with the new', with a fabulous, fresh logo and work behind the scenes on a more user-friendly website.

Thanks to MCCCC parent and designer Debbie Wood for so cleverly encapsulating who we are with a unique and eye-catching logo and to Dimi Cromdos for her work on both the website and the newsletter.

2016 was a very busy year indeed and our achievements were many. We certainly hope to build on this in 2017 and add a few more feathers to our cap!

The sub-title of this inaugural edition of The Moreland SCCCCoop could be 'the sustainability issue' as there has been so much going on in this area across all three centres in the past 12 months, but particularly Tinning Street, which has been the 'guinea pig' site for many of our programs and initiatives.

Many thanks to Dave Dean, Bianca Piscitello and the parents on the sustainability sub-committee, as well as every one of our staff for making the MCCCC such a leader in sustainability in the early childhood arena. It is a badge we are very proud to wear!

Finally, there is a whole host of MCCCC events coming up (Our Welcome event on 19th February, Winter Solstice, an Art exhibition, our Fun Run Walk etc.) details of which will filter through a little closer to the dates.

I hope you enjoy this bumper edition of the E-Newsletter wrapping up 2016, and if there's anything in particular you would like to read about in future editions, just drop me a line.
Gill Barclay
Centre news

MCCCC wins environmental achievement award

From left to right: Robert Le Rocca (Moreland City Council councillor), Gillian Barclay (MCCCC director), Imogen Judd (MCCCC parent and Sustainability Sub-Committee member) and Lenka Thompson (MCCCC parent and former Moreland City Council councillor).
MCCCC is thrilled to announce that we won the 2016 Mike Hill Environmental Sustainability Achievement award.
The award was announced at the Moreland City Council Awards Ceremony on September 1st, 2016.
MCCCC's sustainability committee was nominated for the installation of solar panels at Dunstan Reserve and Mitchell St as well as its initiatives to reduce waste, save energy and build core learning opportunities for the staff and children.
Congratulations to all involved (particularly MCCCC parents Imogen Jubb and Tim Morrissey for creating the sustainability committee, their exemplary planning and vision for what can be achieved!) and a big thanks to staff at Positive Charge, Moreland Energy Foundation and CERES for their support of this work.
Mike Hill, a former Moreland City Council Mayor and Councillor, was admired by the Moreland community for his generosity and vision for a sustainable community. Mike spent more than two decades working with the local government sector on sustainability and community development.
We are honoured to receive an award in his name and aspire to continue to build Moreland's capacity as a sustainable community.
Imogen, who has been so instrumental in driving our sustainability initiatives, ran as an independent in the council elections in late 2016. She is passionate about strategies and initiatives that contribute to a greener, more sustainable world. Say hello via her Facebook page!
Sustainability Information Sharing Evening
Tinning St hosted a 'Sustainability Information Sharing Evening' on September 1st, 2016.
The session was a great opportunity for parents and staff to share ideas on sustainable practices that can be implemented around the house.
We hope to run more of these information sharing evenings in the future and encourage all MCCCC families and staff to attend and share their tips for minimising their environmental impact, whether it be at home, work, via a community project etc.
Green Warriors report for duty!
Getting children engaged and interested in sustainability has been the impetus for a novel initiative recently implemented for the kinder kids at Tinning Street: Beware the Green Warrior!
Five children are chosen as each day's new, Green Warriors. They are given the responsibility of leading one of five key sustainability areas: Biodiversity, Water, Energy, Waste, Air and Transport
Posters and a special, symbolic necklace that represents each area, lets the other children know who the warriors are and what their duty for the day is.
The project aims to help the children make the connection between a learning experience and the real world. It also brings into play several learning concepts (earth science, biological science, environmental science and physical science) as well as mathematic concepts and literacy development (oral literacy).
The children have been excited to be involved and wear their special necklaces.
Some of our families might remember Captain Planet (a 90's cartoon about superheroes working with regular teenagers to save the planet—well worth looking up online!), which connected environmental themes with the fun and colour of the superhero world.
Events & fun stuff
Community Fun Day, Sun 15th Oct


Dunstan Reserve hosted a fun and well-attended Sustainable Community Fun Day one sunny day in October, 2016.

Apart from simply enjoying a community-focused local event, a key focus of the day was sustainability, a core value of MCCCC's strategic plan.
Local energy experts Positive Charge—who helped the centre install solar—was on hand to provide advice on what people could do to reduce your energy costs, make our homes more comfortable and play a part in Moreland's shift to zero carbon.
As well as providing technical advice and information on Moreland's Zero Carbon strategy (which they lead the delivery of) Positive Charge ran two workshops: one on solar and batteries and the second on preparing your home for summer.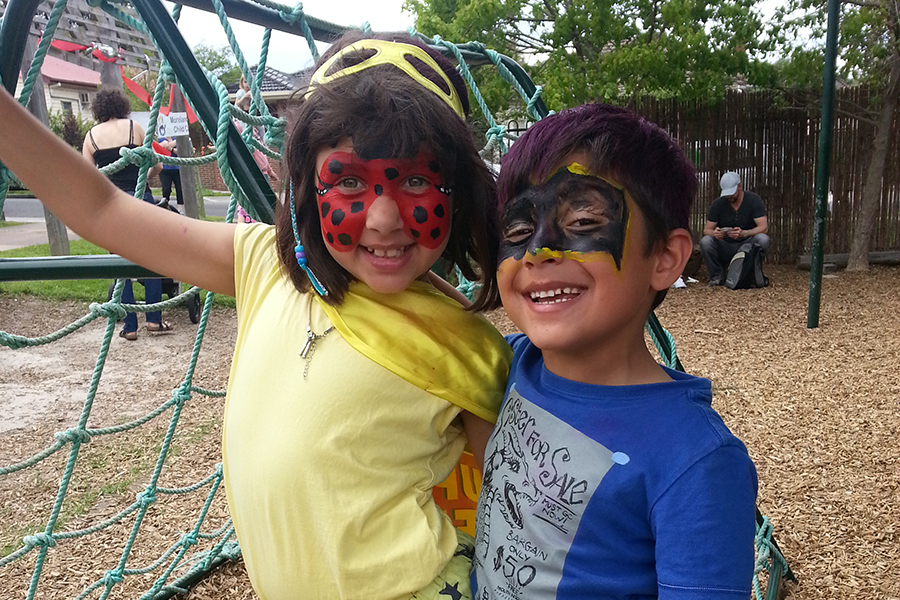 The children in particular seemed to enjoy our eco-friendly doll's house on display. The house was used to communicate key messages around energy efficiency and renewable energy as well as urban heat island mitigation measures, water efficiency and waste.
Many thanks to Earth Choice, sponsors of the ResourceSmart program, for donating a bumper hamper as a raffle prize. Thanks also to all the families and MCCCC staff for baking cakes and other yummy treats, manning the BBQ and other stalls, painting little faces and spraying wild hair—your time, energy and commitment to our service is always greatly appreciated!
Our 'gold coins' from the day were donated to the Asylum Seeker Resource Centre (ASRC), a not-for- profit organisation that supports refugees and asylum seekers and advocates for their human rights.
Fun Run Walk, Sun 20th Nov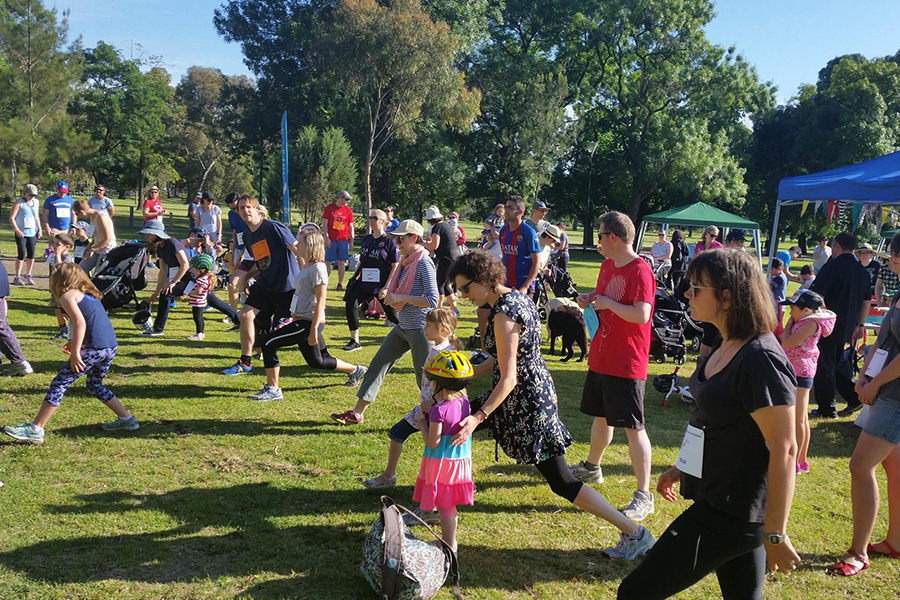 We had a great time at our inaugural Fun Run Walk in 2015, so much so that we strapped on our trainers and did it all over again in 2016!
Like our inaugural year, the event was held at the very picturesque Princes Park. Thankfully the weather was kind to us on the day and participants enjoyed a sunny, spring morning.
Congratulations to our event winners:
6.4km Run: Hicham Hehjed (Tinning St family)
3.2km Run: Bevan Holder (Allison Jackson's son)
3.2km Walk: Tom Hirst (sibling of Tinning St family)
Fresh coffee, a sausage sizzle, kid's activities and goodie bags kindly supplied by Bendigo Bank kept both adults and the knee-high brigade happy, and the ever-popular Sporty Paul was on hand to put the kids through their paces.
Many thanks to Cooper (Ali Teece's son) for stepping in to do the warm up, those who volunteered their services manning stalls, the barbie etc. on the day, and to the many families, friends of families and staff who organised and/or donated prizes for our raffle and silent auction. You helped us raise just over $4,000 – a magnificent effort!!
And finally, a huge thanks to Adrienne Smith and Lyndal Burke (Dunstan parent) for their efforts organising and running the event on the day. We could not have done it without you!
Annual Christmas Party, Wed 7th Dec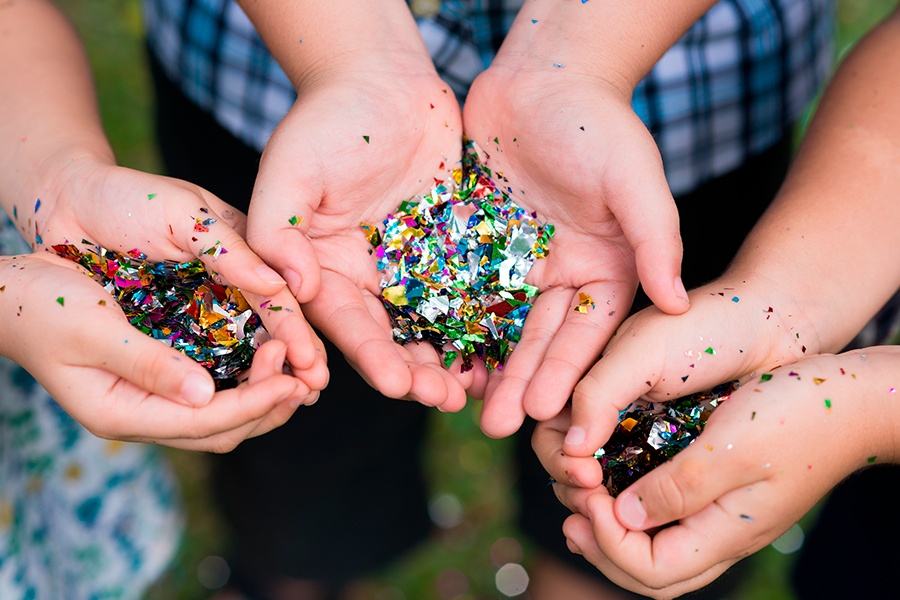 Unlike 2015's windswept event, the weather was very kind to us for our annual Christmas Picnic at Coburg Lake Reserve in 2016.
As usual, the children were a bundle of energy and entertained us with some well-rehearsed songs. Well done to all our little stars! This year, Santa decided to give his reindeers a rest and arrived via a convertible—we wonder what he will come up with next year..?
Many thanks to 'Music Sue' and 'Sporty Paul' for coming along and being their usual entertaining selves, all our kids just love them, and to all our staff for their assistance in coordinating the raffle and helping out with the event itself. These events only happen with the input and helping hands of many.
It's lovely when all our families can get together, let their hair down and enjoy the warmth and comradeship that is the MCCCC community!
We hope you join us for festivities again this year.
Out & about
There is a smorgasbord of fetes, festivals and major events coming up in the hip and happening City of Moreland! We encourage families to get out there and participate in the many wonderful activities our diverse community has on offer, many of which are free.
Click here to view Moreland Council's current calendar of events.
Sustainability
MCCCC gets ResourceSmart
With sustainability a core value and initiative, MCCCC signed up to participate in the ResourceSmart initiative.
The initiative looks at four main areas: biodiversity, energy, waste and water.
Biodiversity looks at how we can protect the land, the local ecosystem, and plant and animal habits;

Energy looks at how we can reduce energy use, conserve energy, reduce greenhouse gases and improve air quality;

Waste looks at how we can minimise waste sent to landfill through 'reduce, reuse and recycle' practices;

Water looks at how we can reduce and improve water usage in our centres and the community through river health, waterway protection and coastal care.

There are myriad activities and projects that can be implemented across the centres, which will benefit not only the centres themselves, but the wider community and, of course, the environment.
Moreland's Zero Carbon Evolution
Children, parents and staff from MCCCC appear in a short video clip detailing our partnership with Positive Charge (Moreland Energy Foundation.)
The video clip can be accessed at morelandzerocarbon.org.au (About half-way down the page.) Have a peek as you might see a few familiar faces!
National Recycling Week
MCCCC is currently working on the Waste Module as part of our participation in the ResourceSmart program.
In line with the recycling ethos, all centres have implemented a Book Exchange, where families can borrow, swap or donate books. MCCCC has also purchased a number of second-hand books from Savers. All of these steps help to reduce the accumulation of waste.
MCCCC officially launched its Book Exchange during National Recycling Week (7-13 November).
Book shelves have been placed at each centre so children and families can donate, swap and borrow books. Book swapping will be a continuous program throughout the centres, so bring along some books to swap and share!
We encourage families to use the Book Exchange and reuse, repair and recycle wherever possible. A clothing exchange implemented across all three centres for a week also worked well. Families brought in second hand clothing they no longer needed and were encouraged to pick through other donated items to see if there was anything they could make use of. This is a great way to extend the life of clothing and aligns perfectly with our 'reuse, repair, reduce and recycle' ethos.
For more information about National Recycling Week, click here
Source: www.planetark.org
Save energy and go solar
On Thursday 15th September 2016 we held a 'Save Energy and Go Solar' evening.
Other local child care centres were given the opportunity to step through the benefits of installing solar panels and participated in a workshop on how to save energy within their own centres.
The night consisted of presentations from Positive Charge, Moreland Community Child Care Centres and CERES.
We were also given the chance to display our new Cherry Energy data monitoring system. This is the first Cherry Energy data monitoring system of its kind to be installed within the Moreland area. The system allows us to monitor and compare how much energy we are offsetting from our solar versus our grid usage.
'Save Energy and Go Solar' was a successful evening, with enthusiastic engagement and thoughtful questions and comments from our guests.
Zero food waste target
Our MCCCC cleaning contractor, Jim, recently undertook a waste audit across all three centres. Jim found that food waste is a significant contributor to our bins.
We have now set ourselves the ambitious target of zero food waste! The community garden next door to Dunstan Reserve has offered to take some of our food scraps for composting, which will significantly reduce Everett Street's food waste.
We are looking at a number of options and strategies to help us achieve our zero food waste target.
All suggestions and ideas highly welcome!
Compostable nappies at Tinning St
Tinning St will soon offer families the option of trialling compostable nappies.
After much research, it has been found that compostable nappies are a very viable option within the childcare setting.
Compostable nappies are made from more environmentally friendly materials than disposable or biodegradable nappies. The process in which they're made is also more environmentally friendly than commercially washing and drying cloth nappies. (However, it is worth noting that due to the much lower volume, cloth nappies would be more sustainable on the domestic front.)
We will keep families posted as to how this trial goes and whether it will be rolled out across all three centres.
Moreland energy audit
The Moreland Energy Foundation recently carried out walk-through energy audits in all our centres.
It was interesting to hear what we are doing well and what can be improved on in order to increase our energy efficiency.
We will be working through the Foundation's recommendations and are committed to reducing our energy usage wherever possible.
Tinning St puts ecobins to the test
Ecobins are currently being trialled at Tinning St.
Ecobins use a colour-coded system, which facilitates sorting waste and minimises contamination. This system is widely used throughout early childhood settings and is a popular strategy for waste minimisation.
For more information, check out www.ecobin.com.au
The Nappy Collective

The Nappy Collective is a wonderful initiative that collects leftover, unused disposable nappies and redistributes them to organisations that support families in crisis or in need. Collections run for two weeks in May and October each year.
Many thanks to all those families who donated nappies to this initiative via the MCCCC in October 2016. We had a large amount of nappies donated, all of which have since been delivered to The Nappy Collective.
Donating helps reduce unused disposable nappies going to landfill and, as such, helps the community.
These are both important aspects of the ResourceSmart program.
For more information, go to www.thenappycollective.com
What can go into your recycling bin at home?
From our sustainability coordinator, Dave.
Recently I was presented with this question and I found some surprising information! Correctly placing items into recycling, compost or landfill bins reduces items unnecessarily going to landfill, increases what we can compost and recycle, and therefore benefits the environment.
I particularly found it interesting that soft, flexible plastic packaging can be placed in a plastic bag and then put into the recycling bin.
Soft, flexible plastic packaging includes:
bread bags

shopping bags

plastic wrap

bags from pasta, rice or frozen foods

clear plastic cereal box liners

Soft flexible plastic packaging does not include:

chip packets

foil liners

bubble wrap

polystyrene

Remember to remove lids from bottles and jars and throw them into the recycling bin too.

You can collect your soft plastics in a plastic bag, but please don't bag any other recyclables as the entire bag will be sent to landfill!
Click here to see what else you can recycle at home; you may be surprised!
Source: www.moreland.vic.gov.au
Got some sound sustainability ideas?
Dave would love to hear your ideas on activities and projects around sustainability that could be implemented at our centres. The current focus is on waste management, however, all thoughts, feedback and ideas would be more than welcome.
You can contact Dave via email at d.p.dean@hotmail.com or you can shoot him a message via the Storypark portal.
Industry info

ECA updates Code of Ethics

Early Childhood Australia (ECA) has released a new version of the Code of Ethics, which is a set of statements about appropriate and expected behaviour of early childhood professionals.
MCCCC refers to the framework to ensure our everyday actions and decisions are made ethically and are respectful of all concerned.
Based on the principles of the United Nations Conventions on the Rights of the Child (1991), the Code of Ethics update followed a national process of consultation aimed at encapsulating the shared values of early childhood professionals.
MCCCC agrees with the Code of Ethics recognition that "childhood professionals are in a unique position of trust and influence in their relationships with children, families, colleagues and the community, therefore professional accountability is vital".
A3 posters of the Code of Ethics are on display at all three MCCCC centres.
For more information about the Code of Ethics, you can visit the ECA website by clicking here.
Parenting info

Connecting with your pre-schooler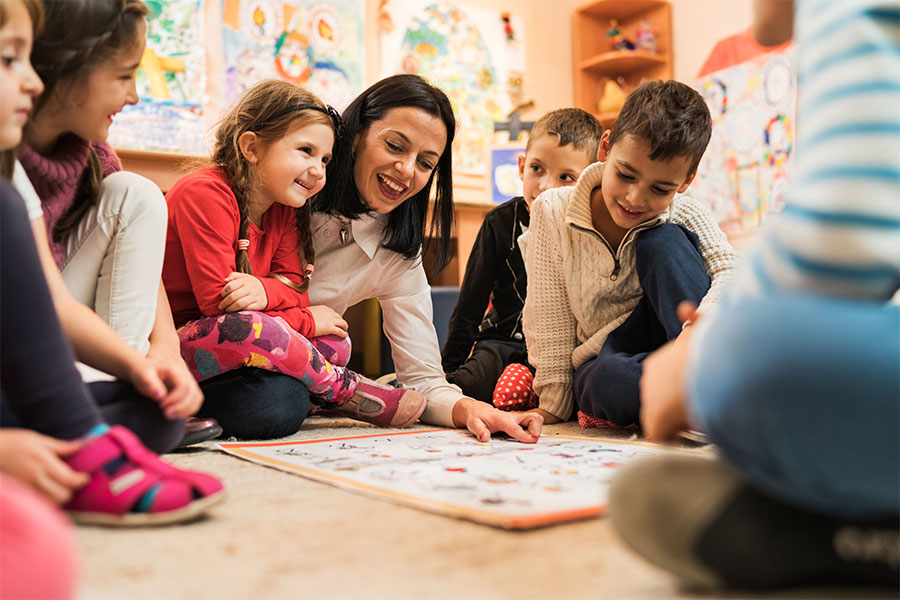 MCCCC educators focus strongly on fostering a sense of connection with children in our service, as well as assisting them to develop sound problem solving and social skills.
Understanding where your child is at in terms of his or her development and acknowledging their emotions is vital to connecting with your child in the crucial early years.
There is a good article about this on the Raising Children Network, which talks about how to help your pre-schooler build more confidence and self-esteem by nurturing and encouraging their sense of self; providing consistent, positive attention; and letting them know that it's okay to make mistakes.
Click here to read more about connecting with your pre-schooler.
Source: Raising Children Network
Meet a Centre family!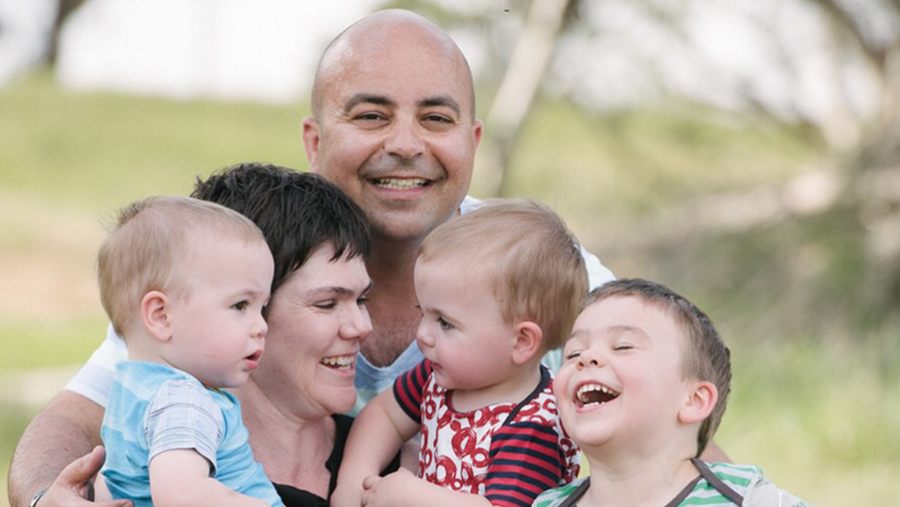 Sandra-Leigh and Con Kalogerakos, with children Graycen, Astin and Hudson (Dunstan Reserve)
Sandra-Leigh says:

"Con and I love Dunstan Reserve; it's like a second home for our children. All the staff are so friendly and truly care for our children. Staff have helped teach the children many life skills. As a mother, it helps to know that your children are loved and nurtured while you are at work.

Con is an IT manager I'm an accountant, so our children have the most boring working parents ever!
We have three boys: Graycen, who turned five in November, and identical twins Astin and Hudson are two and a half. We also have a black toy poodle Ky, who is still coming to terms with the fact that we had children.

I am originally from Kiama, NSW, and Con was born in Yarraville and moved to Coburg when he was young. Con and I met in Hawaii on holidays and I eventually moved to Melbourne. We first lived in North Carlton and a year later bought our home in Brunswick.

My mum was born in Scotland and Con's parents were born in Greece, so there is a lot of European culture in our heritage.

Con introduced Graycen to AFL and NRL last year taking him to a few games. Graycen still can't quite understand that Captain Carlton and the Storm don't play the same game but he loves it. He knows the entire Carlton song and has almost taught the twins it too. I am not allowed to discuss how "good" the Sydney Swans are as Con is too scared that the boys will defect.

We have a weekly pancake date at a local café every Sunday after swimming lessons. We love to go to parks, out for a bike ride and the children's favourite place is the skate park at the moment. (Mum is still coming to terms with their daredevil personalities.)

Our major goal is surviving the next few years relatively unscathed and with no major injuries—yes, I can hear you all laughing now as I think my children have the largest incident reports folder in the centre!

We are hoping for a smooth transition for Graycen from kinder to school and we are looking forward to spending some quality time with the twins on the days that they are not at childcare before they too go off to school."